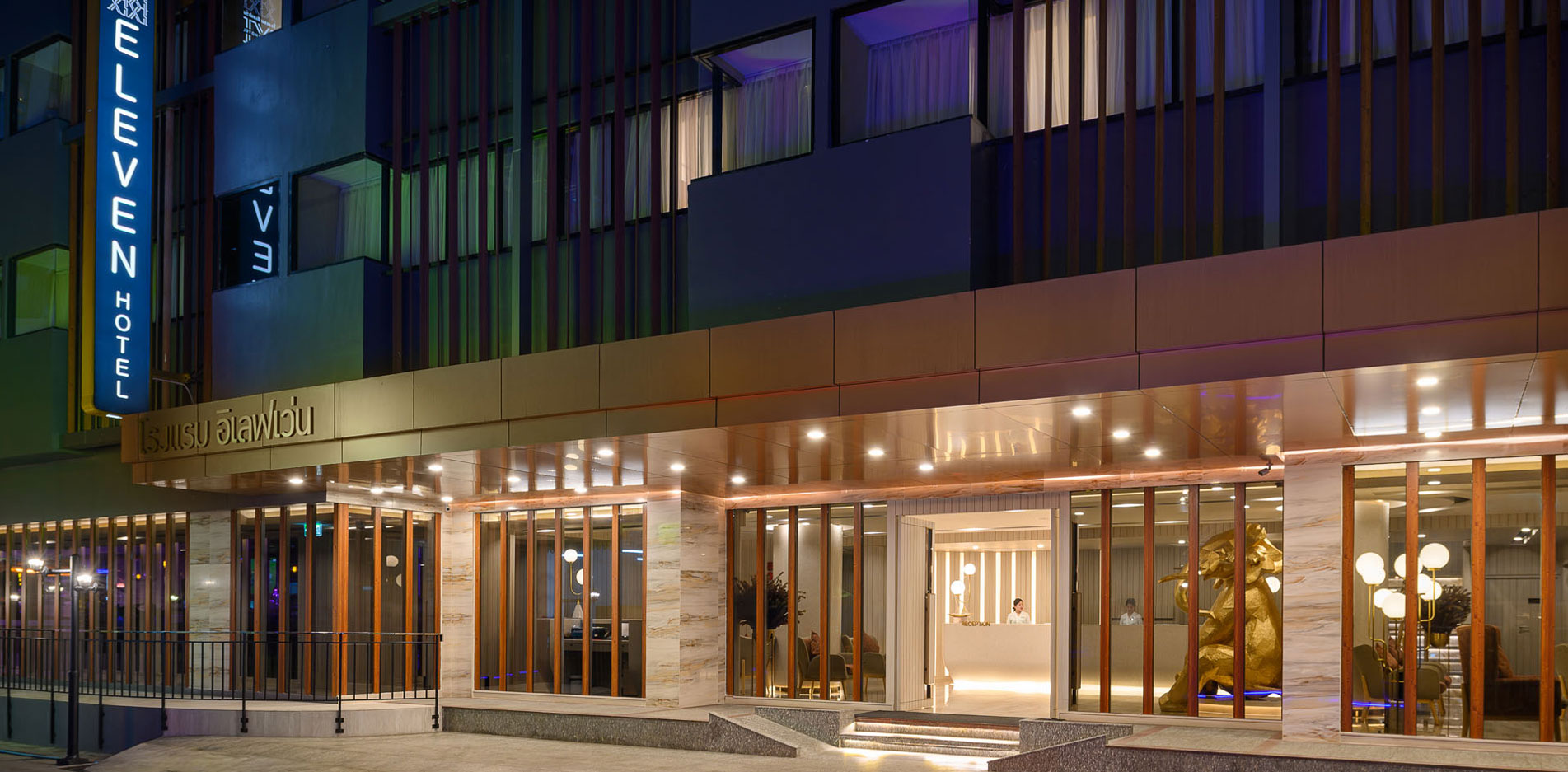 General
Where is Eleven Hotel located?
Eleven Hotel Bangkok is located in Sukhumvit 11 only 300 meters away from Nana BTS Station.
Hotel address is: 11 Sukhumvit 11 Bangkok,10110.
What's the best way to contact the hotel?
We have many channels to reach us
What time is check-in check-out?
Our check-in time guarantee at 3pm and our check-out time guarantee at 12pm.
Can I request an early check-in / late check-out?
For early check-in and late check-out are subject to room availability on the arrival.
For the guarantee early check-in, we recommend that you book the room one night prior to your arrival.
For late check-out up to 6pm, the 50% charge on daily rate will apply. The late check-out after 6pm this will be full day charge.
Do you charge for additional guests?
We are guest friendly hotel maximum stay 2 person per room. However, for security purposes, the guest(s) will be required to provide identification card at the reception.
Do you charge for WiFi access?
WiFi access is complimentary for all in-house guests with user name and password provide upon check-in.
What is the speed of the WiFi?
Our WiFi speed at 200/200Mbps ( Share )
Can I store my luggage at the hotel before check-in/after check-out?
Yes, we'd be happy to keep your luggage stored free of charge until your room is ready or while you're waiting for your departure flight.
Can I send a package to the hotel?
Yes, you can send a package to the hotel prior to your arrival and pick it up upon check-in.
Do you have a business center?
We don't have a business center, but you may contact the reception for business center services. Simply dial 0 from your room phone and we'll be happy to assist you in any way we can.
Do you have a swimming pool?
Yes, our salt swimming pool on the rooftop 9th floor.
Do you have a fitness center?
Yes, our fitness center on the rooftop 9th floor.
Do you have a spa or offer massage services?
Although we don't have a spa onsite, we are happy to arrange an in-room massage for you with prior booking.
What is your smoking policy?
Our hotel set up the smoking area and also the smoking room are available on the request.
How much do you charge for breakfast?
Our Breakfast serve as buffet at 550THB/person.
What time is breakfast and where is it served?
Breakfast is served at Thai Me Up restaurant on 9th floor.
Do you serve Halal food?
Yes, we do have halal food on the request.
Do you offer vegetarian, vegan or gluten-free options?
We have vegetarian and vegan food available at our hotel, for the gluten-free is not available.
Do you offer room service?
Yes, we have room service available from 11.00-21.00.
Is there a doctor on call?
Yes, there is a doctor on call to offer first aid assistance to our guests. If you find yourself in need of medical assistance, please contact reception by dialing 0 from your room phone and let us know.
How far is the nearest hospital?
The nearest hospital is Bumrungrad International Hospital. It is located on Sukhumvit Soi 3, 800m or a 5-minute drive from the hotel.
Do you provide wheelchairs?
For the wheelchairs is available for advance requested.
What is the voltage in Thailand?
Power sockets in Thailand provide a standard voltage of 220V to 240V with a standard frequency of 50Hz.
Are pets allowed?
We currently operate a non-pet policy and no pets are allowed in the hotel.
Rooms
Do you have interconnecting rooms?
Yes, we offer interconnecting rooms.
Do you have rooms for the physically challenged?
Yes, have the room with accessible rooms adjusted with walk-in shower and sliding doors. Please enquire directly with the hotel to confirm availability.
Are cots and extra beds available?
Cot is available on the request and subject to the availability without charge.
Extra-bed is available with the additional charge of 1,500 THB extra bed/night including breakfast.
How big are your extra beds?
Our extra beds are 3ft (0.9m) wide and 6ft (1.8m) long, with an 8-inch (20cm) mattress.
Do your rooms have bathtubs?
Bathtubs are available only Executive room type.
Do you have smoking rooms?
Yes, we have smoking rooms on the request and subject to the availability on the arrival.
Are your rooms fitted with a USB plug socket?
All our rooms are fitted with USB plug sockets on the work desk.
Transportation
How do I get to the hotel?
Easy journey to Eleven Hotel Bangkok, you can take the BTS Skytrain and get off at the nearby Nana station. Alternatively, you can take a taxi and provide the driver with our address.
Do you have available car parking?
Yes, we have a complimentary on-site car park for all hotel guests.
Do you have valet parking?
No, we don't currently offer valet parking services.
Do you offer airport shuttle services?
Yes, we offer shuttle services to and from the airport at an additional charge of cedant car 1500 for maximum 2 person with 2 luggage.
Which is the nearest BTS Skytrain station to the hotel?
Our walking distance 300 meter to BTS Skytrain Nana station, which is only a 5-minute walk from our location.
Reservations
How do I make a change to my reservation if I haven't booked directly on the hotel website?
Please call direct to hotel at 02-080-3111 or drop us the email at reservations@elevenbangkok.com for any inquiries regarding your reservation.
What is the minimum age requirement for checking in?
We can check in guests who are 18 years old and above for travelling alone. If you are travelling with the family all age is welcome.
What is your cancellation/no-show/deposit policy?
Our cancellation, no-show, and deposit policies vary based on the selected rate plan and package. Please refer to the relevant cancellation/no-show/deposit policy of the rate plan or package you are planning to book.
Do you have an early departure fee?
Yes, we charge 100% of the booking total if your reservation has not been shortened prior to check-in.
Why do I need my debit/credit card details when making a reservation?
If you are purchasing a non-refundable rate plan or package, your debit/credit card will be charged at the time of booking. In all other cases, it is used only as a guarantee to confirm your booking.
Payments
What forms of payment do you accept?
We accept payments in cash (THB), Bank Transfer , Payment link, Credit card ( Amex not available ).
Does the hotel require a deposit for incidentals?
For all guests check-in the 1000THB deposit for incidentals is require and this refundable as the outstanding balance upon the departure date.
When will the incidental deposit be returned?
Incidental deposits collected in cash are returned to guests upon check out. If a deposit has been pre-authorized on a credit card, the amount will be unblocked within 2-4 weeks, depending on the specific debit/credit card and/or bank policy.
How much money does the hotel pre-authorise on my debit/credit card at check-in?
For all guest check-in we will make the advance payment for total room charge, if guest would like to pay on check out the pre-authorize amount will apply the total at cover all your room charge plus 1000THB for deposit.
Who should I contact for questions about my bill?
If you need any clarification or have any questions about your bill, please call the hotel reception.
Groups & Meetings
Do you cater for meetings?
No, Eleven Hotel Bangkok have no meeting room on site.
Do you offer special rates for group bookings?